Recognise a loyal customer the moment they walk in the door, and meet them where they are.
Understand your customers through invisible technology and differentiate by delivering exceptional customer experiences.

Go Beyond Beacons
Learn how our platform enables smart retail stores in addition to smart retail apps. More about our differentiation.
Retail Case Studies
Real-World Behaviour Analytics
Anonymous customer journey mapping analytics via a versatile hardware and software platform.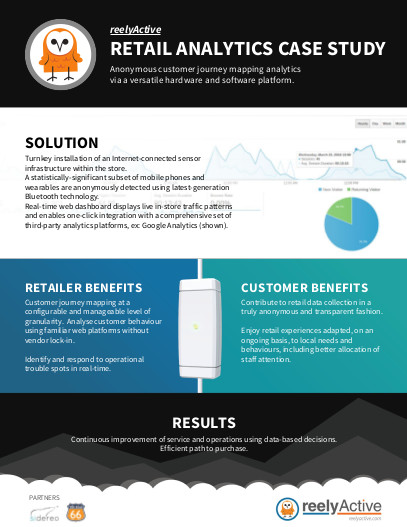 Loyalty
Authentic customer experiences and increased sales via a loyalty mobile app that is detected in-store.
Retail Infographics
The Future of Customer Experience
Select Retail Deployments
Bonlook
Originally an online-only retailer, when Bonlook established a brick-and-mortar presence, they were faced with the challenge of measuring in-store behaviour, as they do so proficiently with their website. Today, Bonlook measure anonymous physical traffic patterns across their stores, and, via our Pareto platform, relay the real-time data into Google Analytics exactly as they do with their web traffic. Bonlook are optimising what matters for their business using the tools with which they are already familiar.
Flagship store
A Québec retail chain features a branded mobile application which provides interactive experiences in one of its flagship stores. Digital signage delivers contextually-relevant content in real-time. Traffic and dwell times of app users, as well as customers anonymously detected via another smartphone app or wearable, are captured and displayed via an analytics dashboard. The partner ecosystem includes:
Mon café bistro (2015)
Two cafés in Montréal featured presence-based notifications to offer loyal customers weekly specials via a branded mobile application. Traffic and dwell times of app users, as well as customers anonymously detected via another smartphone app or wearable, were captured and displayed via an analytics dashboard. The partner ecosystem consisted of: